STOCK & WAREHOUSE
In addition to on-site services, we also maintain a very big stock of new and overhauled spares in Germany. We facilitate delivery of many deck crane spares and other vessel equipment directly from stock. In 2021 we enlarged our original company facility by adding a new warehouse and office.
Basically this was to accommodate the needs of our constantly growing business. Our warehouse team, consisting of five colleagues, arranges the commission of incoming orders and handles the entire inventory.
The total value of our fully digitalized warehouse with barcode system is about 3 Mio Euro. Our warehouse is filled with 2,000 positions in hand stock and 5,000 different articles of deck crane spare parts and more. We have a total amount of 10,000 pieces available in 1,800m² warehouse capacity. In our warehouse buildings we have enough space for 1,200 pallet/boxes.
OPTIMAL PACKAGING
High quality packaging is of utmost importance to us in order to ensure, that vessel equipment will arrive at its destination without damages. Even if the final destination is unknown our team arranges the best packaging for all possible transportation options if Airfreight, Seafreight or Truck.
Our warehouse team uses suitable packing for both the smallest screw, the largest cabins or huge items. If standard pallets are too small we have our own area inside the warehouse to build non-standard wooden boxes.
This ensures a flexible and cost saving packing.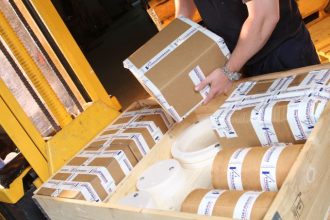 SUSTAINABILITY
In order to save CO2 and minimize the volume of waste we reuse many packaging materials, press scrapped cardboard packaging in a paper press and employ starch non-plastic packing peanuts.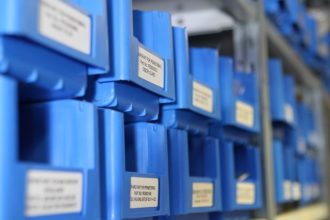 Please contact us for your request of spare parts or any other support.
Or send your request via
.
For further information about our company, please visit us at Facebook, Linkedin or Youtube!