We keep you lifting

Highly specialised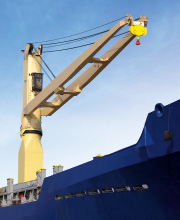 Founded in 1994, we have been well established in the crane business for over 25 years, and are a leading highly specialised provider of deck crane spares and service. Our satisfied customers are spread all over the world.
Economical quality spares
With our own big stock of spares and well-chosen sub-suppliers, we can cover most needs within a very short time. Our ­database contains more that 35,000 articles and is still growing.
We offer the following spares:
original
OEM (from the same factories the crane makers use)
reconditioned
Importance is also given to exotic or old and obsolete components for which we run a repair exchange system, or which can even be specially produced in small series.
All our parts comply fully with quality requirements and technical specifications. Major classification certificates can be provided where required.
We cover all parts from:
hydraulic pumps and
motors
valves and filters
electric contactors and
controllers
wire sheaves, wires, hooks
and blocks
bearings, screws and bolts
. . . and anything else!