Your crane specialists
With own service engineers our cooperation partners
we can cover all service requirements for cranes and hydraulics througout the world.
Inspection/Prevention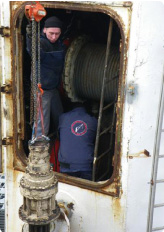 In order to avoid or reduce downtime and off-hire a regular inspection of the cranes is necessary.
We do the inspection based on a very detailed
procedure with a protocol and if required a
repair proposal  as result.
Inspection comprises:
rocking test as per latest Classification rules
condition check of all safety components
recording and minor adjustment of all control functions
check of hydraulic, electric and mechanical parts